Who Discovered America?
Greatly expanding on the blockbuster 1421 Gavin Menzies and his co-author Ian Hudson uncover the complete untold history of how mankind came to populate the Americas by multiple sea voyages, over several millenia. Columbus was 40, 000 years late! The peopling of these great continents by ancient man from around the world has helped to create the great, rich and diverse tapestry of cultures which can still be seen to this day.
Buy Online – US:  
Buy Online – UK: 



---
The Lost Empire of Atlantis (US)
Reading like a real-life Indiana Jones story The lost empire of Atlantis take us on an epic journey around the world to finally uncover the truth behind the mystery of Atlantis.
Buy Online – US:




---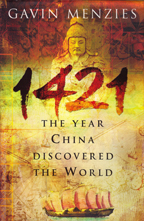 1421 – The Year China Discovered the World
"… On the 8th of March, 1421, the largest fleet the world had ever seen sailed from its base in China. The ships, huge junks nearly five hundred feet long and built from the finest teak, were under the command of Emperor Zhu Di's loyal eunuch admirals. Their mission was 'to proceed all the way to the end of the earth to collect tribute from the barbarians beyond the seas' and unite the whole world in Confucian harmony. The journey would last over two years and circle the globe…" 
Buy Online – UK:




Buy Online – US:



---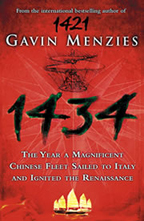 1434 – The year a magnificent Chinese fleet sailed to Italy and ignited the Renaissance

In 1434, Gavin Menzies offers a stunning reappraisal of history, presenting compelling new evidence on the European Renaissance, tracing its roots to China.
Buy Online – UK:




Buy Online – US: